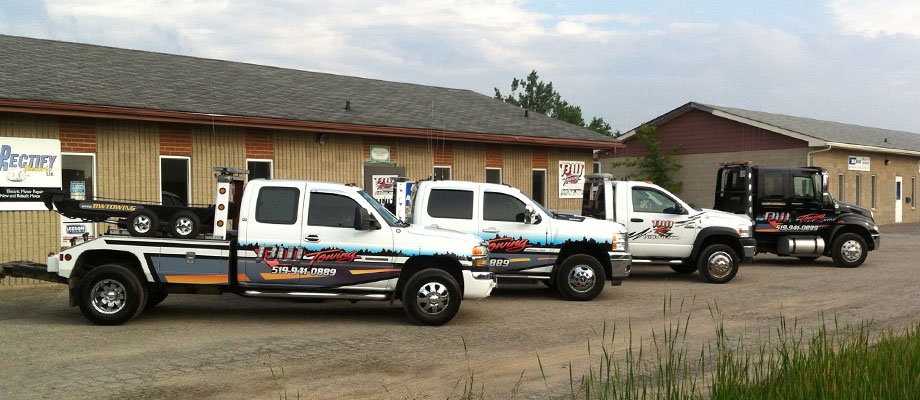 CALL 24 HOURS - 519-941-0889
Who We Are
BW Towing & Automotive is a family owned and operated business serving Orangeville, Caledon, Erin, Hillsburgh and the surrounding area.
We provide 24 hour police and emergency towing services as well as other basic services such as battery boosts, lockouts, tire changes and fuel delivery. We are a 24 hour service. Orangeville Police/OPP authorized towing service for the area and are also contracted for roadside assistance with General Motors and Chrysler Canada for the area. Our equipment is modern and new and fully capable of safely delivering you and your vehicle to your destination. Our drivers are fully trained, bonded and insured.
BW Towing & Automotive also provides complete car repair services. Call us next time a problem arises. Not only can we get your car to the shop, but we'll fix it too! Professional service with competitive rates.
We can provide scrap car removal for those old clunkers that have just seen better days. Some scrap cars are donated to local fire departments for research and training purposes.
Community Involvement
BW Towing & Automotive sponsors and coaches with Orangeville Minor Soccer, Local Bantam Rep Hockey, and Special Needs Hockey. We are proud of our community and stand behind it in every way possible. We also utilize local business for all our advertisement, equipment, lettering, clothing, and truck maintenence needs. It's good to get involved.